LOOKING TO PARTICIPATE IN THE REAL ESTATE MARKET TO EARN SOLID RETURNS ON YOUR HARD EARNED DOLLARS?
If you've been wanting to diversify your investments and participate in the real estate market with a trusted company, this page will help you understand your options in passive or semi-passive investing… including the option of Private Money Lending in Dallas/ Ft. Worth.
What Is Private Money Lending?
A private money loan is a loan that is given to a real estate investor, secured by real estate. Private money investors are given a first or second mortgage that secures their legal interest in the property and secures their investment. When we have isolated a home that is well under market value, we give our private lenders an opportunity to fund the purchase and rehab of the home. Through that process, the lender can yield extremely high interest rates – 4 or 5 times the rates you can get on bank CD's and other traditional investment plans.
Essentially, private money lending is your opportunity to become the bank, reaping the profits just like a bank would. It's a great way to generate cash flow and produce a predictable income stream – while at the same time, provide excellent security and safety for your principle investment. You can do what the banks have been doing for years…make a profitable return on investments backed by real estate. There is no other investment vehicle like it.
This is not a solicitation or offer of securities. Investment in Invest Recon PRO is offered only to qualified investors through a written Investment Agreement or Private Placement Memorandum.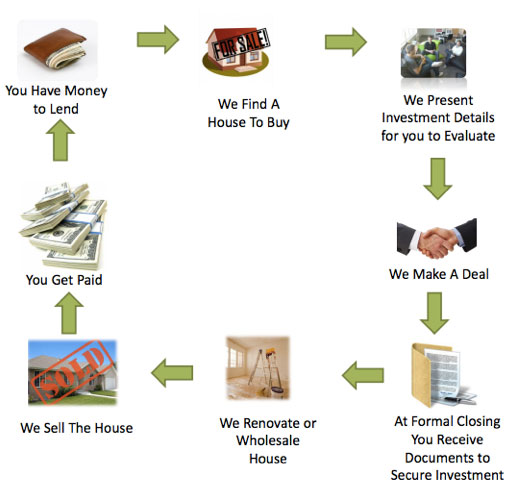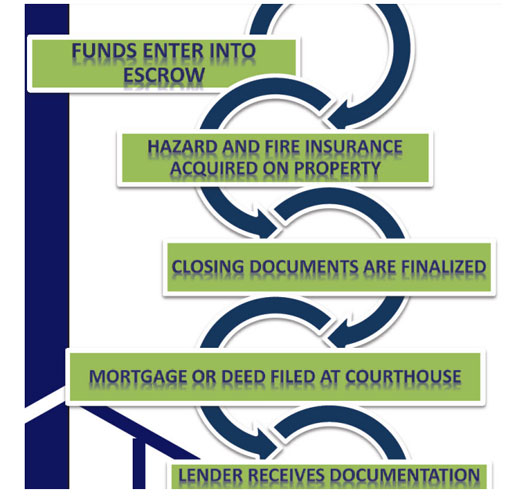 A quick illustration of the "private money lending" transaction process.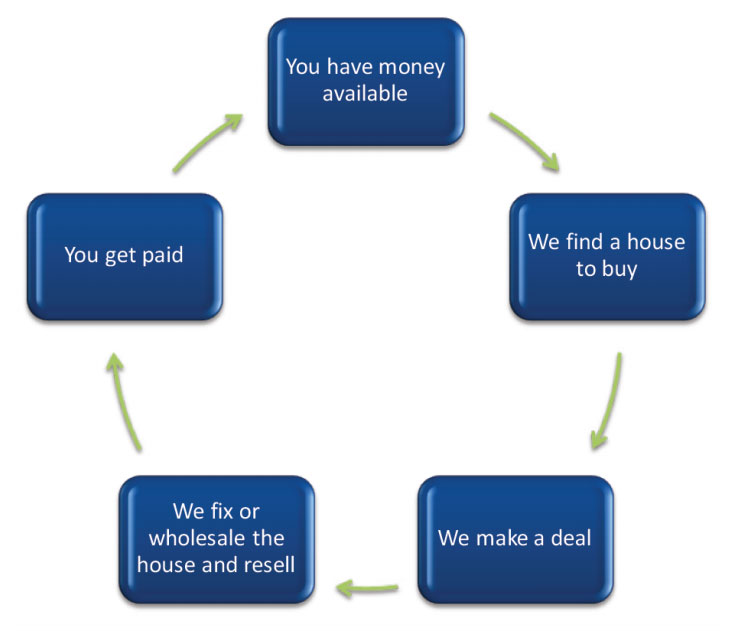 If you're interested in learning more about Invest Recon PRO and our operations and investment opportunities as partners on properties or to purchase wholesale properties fill out the short information form below or give us a call at 972-309-9863 to learn about the options we offer.